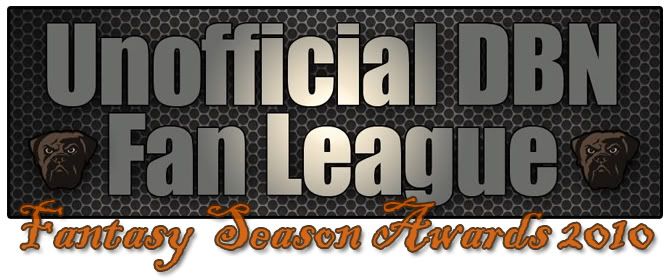 The first thing I'd like to do is thank all of our participating teams in the UDBNFL. You guys made for a great season. Yeah, we were unofficial, but I'd like to think that the competition wasn't any less fierce. There's really not much more you can ask for from a fantasy league than that. I hope you all had fun, and I'd love to do it again next season. I would also like to thank Chris and everyone else at DBN for allowing us to organize, and talk a little smack (Kimble knows;-) through Dawgs By Nature. 

And now on to the awards! I'll start off with the smaller ones and make our way to the Championship Trophy... 
The smaller, easier awards will be an awesome individualized stamp! Now there isn't much you can really do with them, but take pride in your stamps, they may be the only thing you have left to hold on to. OK, maybe that's just me. But I did spend a good 30-40 seconds crafting each and everyone of them, so that's got to count for something. Still no? Oh well, enjoy:
Our first stamp is The Frequent Shopper Award. This is given to the team / manager with the most waiver moves in the entire league. The guy who's bench was basically a revolving door. Pick-ups one week were drops the next. He who held no shame in making a mockery of the 12 move limit, and abused the wire like it was a redheaded step child. It was actually a really tight race for this one. The Y-Town Dawgs', managed by Joey-D, 43 roster moves just barely surpassed the 42 moves put up by Kimble's WV Brownies. 
Your prestigious award: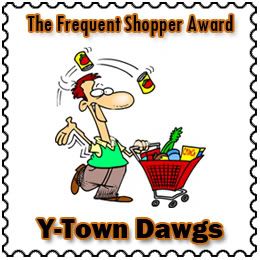 Our next stamp is The Toilet Bowl Award. This is actually given to the two teams that participated in the ugliest game of the season. There were a few bad ones here and there, but I think the worst came in Week 7, when the The SpecialPeoples (SpecialBrownie) took on The Buckeye Brads (Brownie's Year). They put up quite the stinker. Neither team could manage to break 70 points, and our of 18 total players started, only 6 managed to score in double digits, none of which broke 20 individually. Please note that the fantasy team The Buckeye Brads is in no way associated with the DBN regular of the same name, however I do apologize that your namesake is attached to this particular award. 
Another stamp to display with honor:
The next stamp is The Doormat Award. This is awarded to the team that has just been walked all over throughout the entire season. Sadly enough, that essentially describes my season in the UDBNFL. While I did remain at least competitive the whole time, it didn't really matter. I never once scored below 70 points on any given week and outscored numerous teams ahead of me, but that was irrelevant. If you played Simmsinns, chances were you'd pull out a victory. I was basically the doormat of the league with my 3-11 record. 
This might be my proudest fantasy moment ever:
The next one is The Tennessee Titans Award. This stamp is obviously named after the NFLs own real Tennessee Titans football team. For a few years now the Titans have started off fairly strong and then came spiraling downward in a flaming wreckage. It was never pretty a sight to see. Neither was our fantasy equivalent. Well, unless you were on of the teams that passed him to make the playoffs. Aussie Browns, managed by skipkirk, opened the season extremely strong with a 6 and 0 start and was averaging over 100 points per game. Then like a speeding Ferrari smashes into tree, it was brought to a violent halt. He scored 56 points in his next game, a loss, then 55 in another loss. It wasn't getting any better, losing his next 4 (total of 6 strait) games, and just barely breaking 80 points. He won the next two, slipping into the consolation playoffs, but only finished 7th overall. 
This is one you'll want to remember: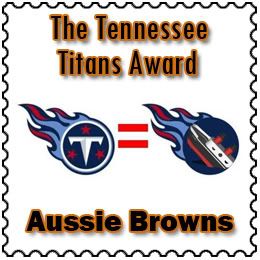 Our next stamp is The Maybin Award. This one is given to the team with the biggest draft bust. This is, of course, named after Aaron Maybin, linebacker for the Buffalo Bills. Picked 11th overall in 2009, he couldn't even find playing time one of the worst defenses in the NFL. One even argued that he may be the worst player in the entire league. Picking his fantasy equivalent was a bit tough, but the more I thought about it, there was really only one conclusion. It had to by Randy Moss, picked by the Aussie Browns with the 3rd selection in the 2nd round, 17th overall. Randy's season started off decent enough, and it even looked like he might bounce back after putting 16 put vs. the NYG in Week 3. He was traded to the Vikings after the next week. He still had a few up and down performances, but after being traded to the Titans, it was lights out for Moss. He was virtually shut out in the last 8 games. This brought his season total points to an embarrassing 67.50. For a second round receiver, that's simply awful. 
Here's another stamp I'm sure skipkirk happy about:
Now the complete opposite of last stamp, we have The Draft Wizard Award. This one is given to the team with the single best draft pick made. Basically, this is a pick that wasn't obvious, wasn't just BPA, wasn't too early, and wasn't too late. Yet still managed to net a crap ton of points and helped to carry a team. This year it was pretty easy. The highest scoring RB in fantasy football, happened to be taken in the 5th round of our league. London Silly Nannies, managed by StuckInPA, snatched none other than Arian Foster with the 59th overall pick. He tallied up 294.80 total points this season, and was third overall, behind only QBs, Vick and Rodgers. He outscored the closest other RB, Peterson, by nearly 60. He was an amazing pick by anyone who made it, and lead most teams he was on to great seasons. 
Now here's a stamp:
Our next stamp is The Snale Oil Salesman. This one is awarded to the team that takes absolutely no shame in fleecing the gullible gussies for everything they have. OK, that's a bit of an exaggeration, but this stamp goes to the best trade of the season. Well, more like most lopsided trade, without any cheating involved. Instead, actually convincing the guy with the short of the stick that is in fact much much longer. The SpecialPeoples, managed by SpecialBrownie, pulled this very trick off. Just after week 5, Kimble was convinced his WV Brownies were in desperate need for a quarterback. He expressed such in a comment on the live blog. Special Brownie swooped in Sam Bradford. The asking price... Vernon Davis, who was coming off a 16 point game vs. Philly. What was Bradford coming off of? An abysmal 6 point performance vs. the lowly Lions. Davis went on to have a decent season for a 14 man league TE. What did WV get out of Bradford? Nothing much. He picked up Vick. Not that he is upset, Vick went on to lead him to a championship appearance. 
Wear it proudly:
Our very last, but definitely not least based on the crap above, stamp is The Anti-Haynesworth Award. Named after a guy who's enjoying a $100 million dollar contract for rolling around on the ground, this is given to the team that basically does the opposite of the moronic Redskins front office. Only the very best free agency pick up gets to bare the name The Anti-Haynesworth. Just as I mentioned above, WV Brownies picked up Vick and he went on to lead them to the championship game. He also lead the league in overall fantasy scoring despite missing virtually 4 strait games. This was a no-brainer. That epic 4th quarter performance vs. the Giants in week 15 will go down in history and it put thousands of his fantasy owners right where they needed to be. 
I like the name, but this one isn't fun to look at: 
And now the championship game, and trophy presentation...
A great way to cap of this fantasy season, and see a championship play out, this game was as close as they come. It literally went down to the very last second on Tuesday night as Vick had the ball with about 20 seconds left. Down by less than 1 point, WV only needed one more medium range pass. But it didn't happen, Vick throw incomplete on his last two passes and the clock ran out. HERE is a the exact match-up breakdown. 
As runner up, the WV Brownies team, and Kimble_79 have earned the following trophy: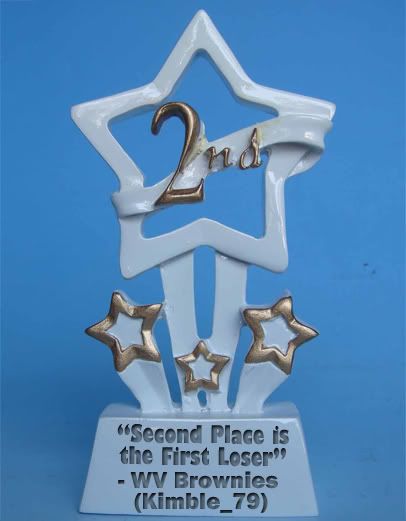 Sorry, I just found the irony too hard to pass up.
And finally, congratulations to our first place winner, 2010 Unofficial DBN Fan League Champion, The Brown Note:
Please remember all of these are done in good fun, I don't have anything against you or your team. If you found that you don't like your stamp, well too bad! It's yours for life, EMBRACE IT! Another big congrats to all of our winners, I really hope you enjoyed this as much as I did. Again, I hope we can do it all again next season!