The first thing I'd like to do is thank all of our participating teams, new and returning, in the UDBNFL. You guys made for another great season. Once again, the competition within the league was fierce all the way to the end. There's really not much more you can ask for from a fantasy league than that. I hope you all had fun, and I'd love to do it again for a third time next season. I would also like to thank Chris and everyone else at DBN for allowing us to organize, and talk a little smack through Dawgs By Nature.
And now on to the awards! I decided to change it up for this season, to keep things interesting...
The first award presentation is for the 2011 UDBNFL Toilet Bowl. This is given to the two teams that participated in the ugliest game of the season. There were a few to chose from, but yet again in Week 7, we had a stinker of all stinkers. The WV Brownies (Kimble_79) just barely upstaged the Husker's_Hounds (doggrad87). After the smoke had settled, the final scores was a whopping 53.04 to 44.06 in what was the lowest scoring game all season. Outstanding performances featured in the game includes an awesome -4.00 from the Titans defense and 0.90 from Devery Henderson. The WV Brownies did recover, however, and went on to finish third overall with a 9-5-0 record. Husker's_Hounds were not as lucky, finishing 2-12-0.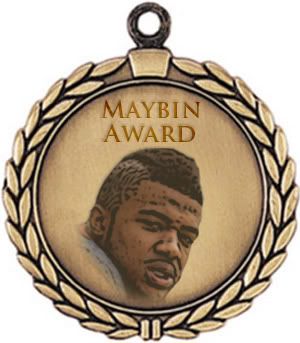 On to one of my favorite awards from last season, The Maybin Award. This is awarded to the team with the biggest draft bust. This is, of course, named after Aaron Maybin, former linebacker for the Buffalo Bills. Picked 11th overall in 2009, he couldn't even find playing time one of the worst defenses in the NFL. At the time, one even argued that he may be the worst player in the entire league. (In 2011, he was signed, waived, then signed again by the NY Jets.) This season, our fantasy Aaron Maybin is none other than Chris Johnson, which means the award goes to Husker's_Hounds, who on paper seemingly had one of the best drafts in the early rounds. Chris Johnson held out until September, but did play in every game. Still, he put up abysmal numbers to start off the season by his standards and finished 44th among fantasy scoring, finishing 40 sports below where he was projected, totaling 157.50 points.
Our next prestigious medal is known as the The Anti-Haynesworth Award. This one is named after a guy who banked on a $100 million dollar contract for rolling around on the ground, this is given to the team that basically does the opposite of the moronic Redskins front office. (In 2011, Haynesworth went on to do nothing for the Patriots, was waived and claimed by the Bucs.) This season, our fantasy Anti-Haynesworth is Cam Newton, who enjoyed a mesmerizing, multiple record breaking, rookie season! That means the award goes to golan (golanbatrac) who, despite having some waiver issues at first, picked him up after Week 2. And though golan missed the playoffs due to a brutal schedule, Newton helped him finish third in overall fantasy scoring. Newton himself finished second overall in fantasy points, just behind, elite QB, Aaron Rodgers. It's also worth noting that golan scored the most points from post draft acquisitions, totaling 676.26 (45.08 a week).
The final medal before the championship presentation is The Draft Wizard Award. This one is given to the team with the single best draft pick made. Basically, this is a pick that wasn't obvious, wasn't just BPA, wasn't too early, and wasn't too late. Yet still managed to net a crap ton of points and helped to carry a team. This season wasn't as cut and dry as the last (in 2010 it went to the team landing Arian Foster). This time the award goes to Colt's Cowboys (brownsboy14), but not for just one drafted player. Not only did he sneak Marshawn Lynch at 75th overall, who ended up 5th among running backs in fantasy points, but possibly even more impressive, he also managed to land Darren Sproles at 147th overall, who finished just for spots below Lynch. It was really a remarkable draft by Colt's Cowboys, proven furthermore by his league high 1483.78 fantasy points from drafted players, averaging a staggering 92.73 a week. Such an impressive and consistent draft went on to lead this team to even brighter accomplishments...
And finally, congratulations to our winner, 2011 Unofficial DBN Fan League Champion, Colt's Cowboys. In his final game, he defeated my team in match that turned out not to be very close,125.56 to 102.88. This season, rather than whipping up a trophy, with all the hype around championship belts, I present to our winner his own:
Please remember all of these are done in good fun. If you found that you don't like your medal, well too bad! It's yours for life, EMBRACE IT! Another big congrats to all of our winners, I really hope you enjoyed this as much as I did. Again, I hope we can do it all again for a third season!
Don't forget, we still have one more fantasy football matter to settle: The DBN Three League Showdown! Currently the plan is to utilize the playoff game(s) and each champion from the three leagues will select their lineups from the competing playoff teams. I'll make a fanshot very shortly regarding this matter. As always, any ideas or suggestions are welcome.