1. Now I'm Done - (StuckInPa)
Jon's Take: I think this draft is near ideal. The obvious advantage here is the having first overall pick, but doesn't always work out quite this well. He's got two great RBs to carry the team, including the consensus fantasy No. 1 in Arian Foster. Even with Ryan Matthews broken collar bone, when he's back to 100 percent, he's a fantastic flex play. I think Peyton Manning is a solid pickup, along with Antonio Brown and Miles Austin at WR.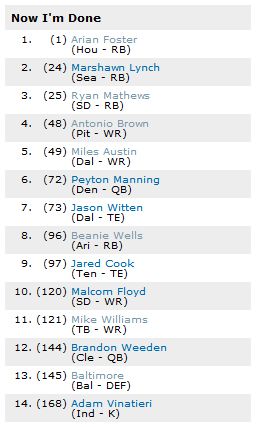 2. Pitchin' A Trent - (Browns town)
Jon's Take: I think this draft is fairly good, but I have my reservations about some of the players after Ray Rice. Trent Richardson is still a fantasy pick that I'm hesitant about, mostly due to the surgery but also because he's on the Browns after all. The WRs have high upside but aren't elite. I like the Tony Romo pick.
Considering my team name, I had to take TRich, right? If he stays healthy, I am completely satisfied with my RBs. I think AJ Green will have the best stats of any WR in the AFC this year, so he's not yet considered elite, but he will be before long.
3. Midway Mayhem - (The New Kardiac Kids)
Jon's Take: This team invested a lot into WR after taking LeSean McCoy. It's not a strategy that I use, so my opinion is biased from that standpoint. His WRs are strong, as you'd expect, but it comes at the cost of at least one RB and potentially another RB in the flex position. I don't have any confidence in Willis McGahee nor Cedric Benson.
My team will be great if McGahee and Benson give me some production. I agree with your assessment. The RB situation for my team Hinged on taking Roddy at 22 and hoping TRich or Lynch was there at 27….They got swiped 1 and 3 picks sooner. I also was hoping for a later draft spot, picking at 3 made RB selection in the 2nd round much more difficult.
4. WV Brownies - (Kimble_79) auto-picked
Jon's Take: Here's another team that invested a lot into WR, but still has two reasonable starting RBs, and Rob Gronkowski is icing on the cake. Gronk is a strange entity in fantasy football. He can score as much as any elite fantasy draft pick any given week, yet you start him at a position that the vast majority of your competitors won't be getting nearly as much. Robert Griffin III is a big risk, but it's one I think could pay off big for the price.
5. Stig-o-sauruseseses - (Stigosaurus)
Jon's Take: I like locking down the QB position in the draft, Aaron Rodgers as a first pick being something I've won with in the past, but fifth overall comes at the cost of a potentially elite fantasy RB. Knowing the drop off after Foster/McCoy/Rice, Rodgers is a pick I can completely understand. The major problem is that after Fred Jackson, this team doesn't have anywhere to go really at RB.
I agree with Jon that my team is pretty thin at RB. I was trying to draft value, and at most of my picks there just wasn't a RB I liked at that spot. I feel really good about everything except RB on my team though, so I'll just have to work the waiver wire effectively.
6. RandallPFloyd QB - (bross09) auto-picked
Jon's Take: As an auto-picked team, I think this is acceptable. Micheal Vick is a huge risk with his constant injuries, but when he's in, he's an elite fantasy threat. Jimmy Graham is just like I described Gronk earlier. The WR corps here is weak, but has some high upside. Grabbing a kicker in round nine is laughable, but one that is injured, Sebastian Janikowski, is worse.
I am pretty happy with mine. i wish i was able to show up, but I was stuck in Detroit. Better than I could have expected for an autopick, though i could be stronger at QB. like my RB situation (turner is a solid 2) and i love torrey smith at the flex. I think this autopick team could be better than people expect.
7. Crazy 88 - (Gabe Durrant)
Jon's Take: I like the Chris Johnson pick. I think he could be an underrated fantasy RB this season, as ridiculous as that would have sounded a year or two ago. I like the nice complimentary WRs in Brandon Marshall and Jordy Nelson, both taken with good value at that draft position. Doug Martin wasn't someone I was high on in the offseason, but progressively have come to agree with those seeing him taking the starting spot in Tampa Bay.
Pretty happy with mine. It really all rests on Cutler. I'm hoping one of my sleeper backs pans out. I'm not confident in Beanie holding off williams in AZ, and DET's RB situation is like an emergency room.
8. 130lbs Of Kosar - (Brownie's Year)
Jon's Take: After Matt Forte, I think this team is pretty thin at RB. Shonn Greene is someone that continues to disappoint fantasy owners. I really like the Cam Newton pick, he's a great for fantasy football, combining the running ability with the equally great passing. Mike Wallace could be the difference maker here, whether or not missing that training camp affects his otherwise elite play.
My late round picks are horrible.
9. Simmsinns - (Jon @ DBN)
Jon's Take: Maurice Jones-Drew is a pick that I have been back-and-forth on since I made it and even before I made it. It just seemed like at the time that No. 9 overall was just too good of a deal to pass up. I'm not sure if I still believe that, but I'm leaning toward no. It was good to hear that he's returning to the team, but with Reshard Jennings getting the starting role how much can owners expect from Week 1? I like the rest of the draft, especially Peyton Hillis at the flex, but the team is weak at WR.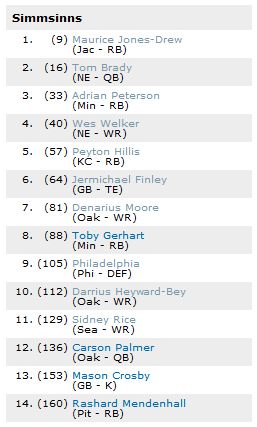 10. Patty's Battlers - (FrenchToast979)
Jon's Take: I really like this draft considering it was done at No. 10 overall. He got great RB, DeMarco Murray, and an elite QB, Drew Brees, that both can do a lot to carry this team. He also got another two starting RBs, one of which is a favorite target out of the backfield of his QB, Darren Sproles. I think the WR corps has a lot of upside as well.
Once I found out I was drafting 10th I was pretty set on RB-RB with my first two picks (hence Murray over brees/brady) but with Brees sitting there in the second it was too good to pass up. If BJGE or Ridley turn out to be reliable fantasy starters I feel really good about this team.
11. Weeden Adderall - (SpecialBrownie)
Jon's Take: I think the RBs here have big fantasy football question marks, but picking No. 11 overall, you have to deal with what you get. I do like Matthew Stafford and Victor Cruz. The Phillip Rivers pick raises eyebrows in round six with Stafford already locking the position up. Back-to-back TEs is also an interesting choice.
Trade bait/ bye week Jon. With Philip locked up, QB is a non-issue for me and might even fill a position in trade.
12. Brownie the Elf - (emily522)
Jon's Take: Picking last isn't easy, especially in a draft that is thin in great fantasy RBs. I think grabbing Jamaal Charles was a must, and following it up with Julio Jones is understandable. Percy Harvin is someone I'm not as high on, but could work out just fine. I think Aaron Hernandez is a great value at TE, often in the shadow of Gronk.
- - -
If you'd like a comment of your own to be included in the piece, feel free to leave one below and I'll add them as they come in.