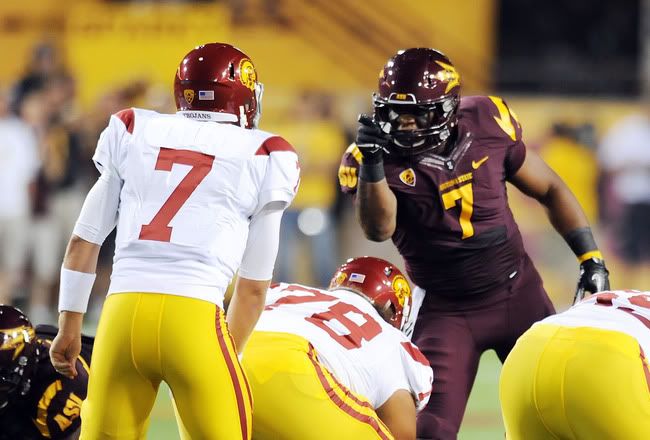 Prior to the start of the 2011 college football season, Vontaze Burfict was considered a
top 10
prospect by Mel Kiper. Now he will probably be lucky to go in the 3rd round. If he does in deed slip to the 4th round, he could be an intriguing prospect, but I'm not sure how
Owen Maricec will feel
about having to practice with Vontaze.
I was going to wait until the weekend to finish my write-up, but with the reports that the
Browns
may or may not be looking at Vontaze Burfict, I decide to sit down and churn a write up out.
Vontaze Burfict, LB, Arizona State
Height
:
6' 1"
Weight
:
248 lbs
Arm Length
:
31 1/4"
Hand Size
:
9 3/4"
40 YD Dash
:
5.09 sec
(Fastest LB: Mychal Kendricks- 4.47, Vontaze was last among LB)
Broad Jump
:
8' 8"
(Longest: Mychal Kendricks- 128.0, Vontaze was last among LB)
Vertical
: 30" (Heighest:Mychal Kendricks-39.5, Vontaze was 2nd to last amonst LB)
The combine, ASU's pro day, and Brock Osweiler's pro day were all disasters for Vontaze, though at Osweiler's pro day Vontaze did get his 40 down in the 4.8 range. But those were also his measurables from this point at time, I'm sure if we took them last year they would differ vastly.
College Statistics

Strengths (From Vontaze's NFL Combine profile)
Burflict has been a fierce, punishing competitor throughout his career. He is capable of providing a serious physical presence, and likely an upgrade, to the middle of any defense in the NFL. When he is in shape, Burflict can fly from sideline to sideline and cover tight ends well sufficiently in the pass game. He really excels as a pass rusher and inside tackler, where he can meet nearly any RB in the hole and provide a punishing blow that sends the ball carrier backwards. He is savvy and plays instinctually, and he is able to read blocks well to get to the ball. In the right scheme with a support staff in place, Burflict has the capability to be a leading tackler in the NFL.
Weaknesses
Write up's on Burfict's weaknesses on the field are few (besides his unsportsmanlike penalties), but here is what I was able to find on CBSSportsline:
A step late recognizing screens at times and can be fooled by misdirection in the offensive line because he relies on his keys.
could be more consistent shedding to reach ballcarrier as he runs by
Taken out in nickel packages, though, as he lacks the suddenness to get a deep drop or handle jerk routes of quicker slot receivers. Must read the quarterback's eyes to jump and affect passing lanes if not getting home on the blitz.
Gets low to shoulder down college backs, but NFL ballcarriers may avoid those tackles. Misses some tackles when trying to intimidate with a lowered helmet or shoulder instead of wrapping up.
Off the field, Burfict's weaknesses are well documented, he's a head case, not much else to it. I short he's blamed his coaches for his lackluster season, despite his talent was still a liability on the field because of his unsportsmanlike penalties, and was reported to have punched a teammate.
Why the Browns shouldn't draft him
I'll start with the obvious and least interesting option. The Browns should not draft Vontaze Burfict because he has severe character issues. Even if Burfict does get himself back in shape and returns to his underclassman form, he very well could aquire be more of a liability on the field, than an asset. Also, in college Vontaze played Middle Linebacker, a position that the Browns just locked up by signing
D'Qwell Jackson
. And lastly, despite what his combine profile, when I would watch him play I never really thought of him as a linebacker who was able to cover. I'm not Skip Bayless, and will claim that I am an expert in linebackers, but that is just the impression I got about Vontaze's coverage skills.
Why the Browns should draft him
Now for the part that is more interesting, and one that I wanted to do this write-up, I think that the Browns should take a flyer on Vontaze and draft him. With his stock plummeting, there is tremendous value in drafting Vontaze. The Browns have 13 draft picks, and if they use all of them, all the draft picks are probably not making the roster. Why not take a player who you know has the talent to be one of the best Linebackers in the game? If he doesn't get in shape and shape up, cut him, you still have 12 more draft picks to evaluate. I also kind of like the fact that Vontaze is wild, and with
T.J. Ward
there might be some elements of intimidation when people talk about the Browns' defense.
When it comes to drafting Vontaze, I hear a lot of people saying that going to Baltimore would be ideal, so that
Ray Lewis
could develop his skills and head. But I say, why can't D'Qwell Jackson,
Scott Fujita
, and/or
Joe Haden
do the same? I also think that while Vontaze's discipline issues start with him, I also don't think that Dennis Erickson ever really tried to help any of his players with their discipline. No matter which team Vontaze goes to, that coach will be more of a disciplinarian than Erickson was.
Lastly, I see Vontaze as more of an outside linebacker than a middle linebacker. When I watched Vontaze, one thing that stood out to me was his ability to
anticipate the snap
. To me this makes me want to put him on the outside and send him blitzing since he seems to get a good jump on the ball. Vontaze also doesn't seem like the sharpest tool in the shed, which from what I understand doesn't bode well for MLB's in the NFL.
I think that in the NFL, like all professional sports, talent speaks. And if you are an impact player and win games, people look past your issues.
Michael Vick
and Plexico Burress went to prison and still someone picked them up. LaGarrette Blount punched someone on the opposite team, on national television, yet somebody still drafted him.
Antonio Cromartie
can't tell you the name of all his kids, and the
Jets
still re-signed him. Someone will give Vontaze Burfict his chance, why shouldn't it be the Browns?