Mike Pettine has promised Browns fans that he will adapt his defensive scheme to fit what his players do well. He did just that in Buffalo in 2013.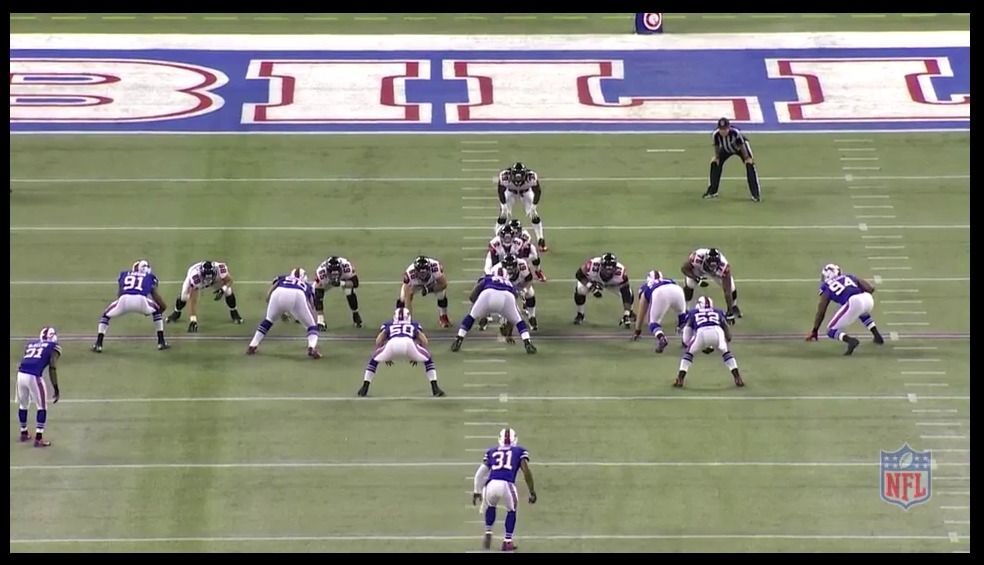 The Bills' defensive scheme was "multiple" especially in sub packages, and its base defense truly blurred the line between "4-3" and "3-4." For clarity, I will refer to the Bills' base package as a 3-4 with a E-N-T front (for end, nose tackle, and tackle).
Personnel
NT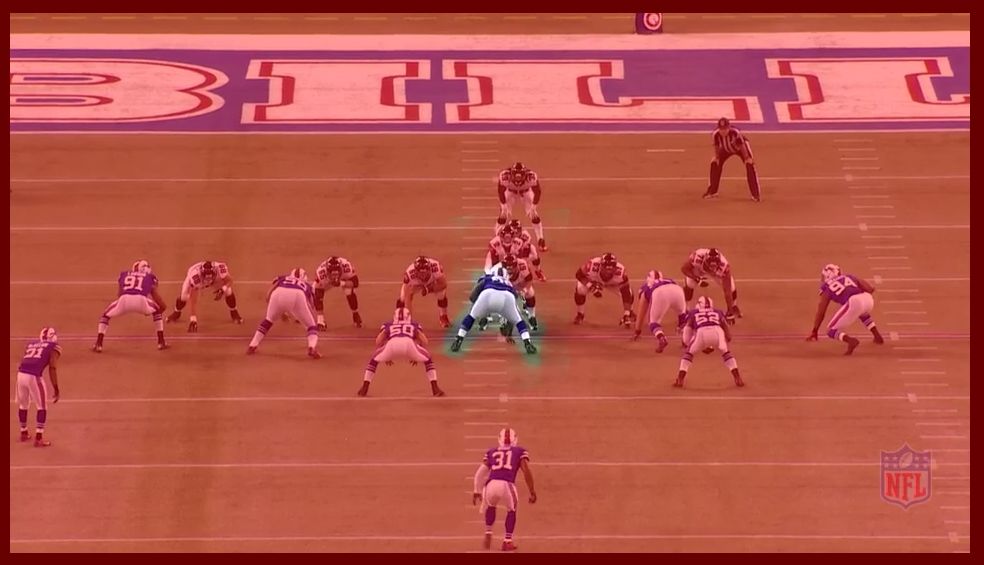 There are a lot of similarities between our defensive personnel and the Bills', starting with our mammoth former 1st-round draft picks at nose tackle. In 2013 Marcel Dareus spent a lot of time at the 1 and 0 techniques, over the offensive center. He has a lot of similar qualities to Phil Taylor; both are enormous, very quick for their size, and capable of playing some 2-gap and some 1-gap responsibilities. Dareus made the Pro Bowl in 2014.
DT
At the other defensive tackle position, the Bills started Kyle Williams, who I would relate to Desmond Bryant for the Browns. Williams is bigger and probably more physical, while Bryant is probably quicker and better able to penetrate into the offensive backfield. In the Bills' scheme Williams almost exclusively played a 1-gap position, which I would love to see Bryant do. However, under Ray Horton Bryant appeared to be 2-gapping a significant chunk of the time, so it remains to be seen where he is best used. Kyle Williams made the Pro Bowl in 2014.
DE
At the "end" position, the Bills started the gigantic Alan Branch. At 6'6", 330 lbs, Branch was used quite often as a 2-gap player. Our best candidate for that position would seem to be Athyba Rubin, who has experience 2-gapping and the requisite size for the job. You could probably swap Rubin for Bryant here and I wouldn't think you were crazy. Rubin is bigger, thicker, and would seem to have the body to be better at 2-gapping, but he's quick for his size and we've seen defensive coordinators try to use him as a penetrator.
"Jack" OLB
At one "outside linebacker" spot, the Bills started former #1 overall pick Mario Williams. In my opinion he is the one kind of guy that we just don't have. Paul Kruger and Jabaal Sheard probably come closest, but Brown matches Williams' blend of power, edge rushing skill, speed, and size. Williams was effectively a fourth down lineman who sometimes played from a 2 point stance. He did not drop into coverage much in the games that I saw. Against the run, his job was to set the edge and force the action back inside. Williams made the Pro Bowl in 2014 (noticing a trend here?)
"Sam" OLB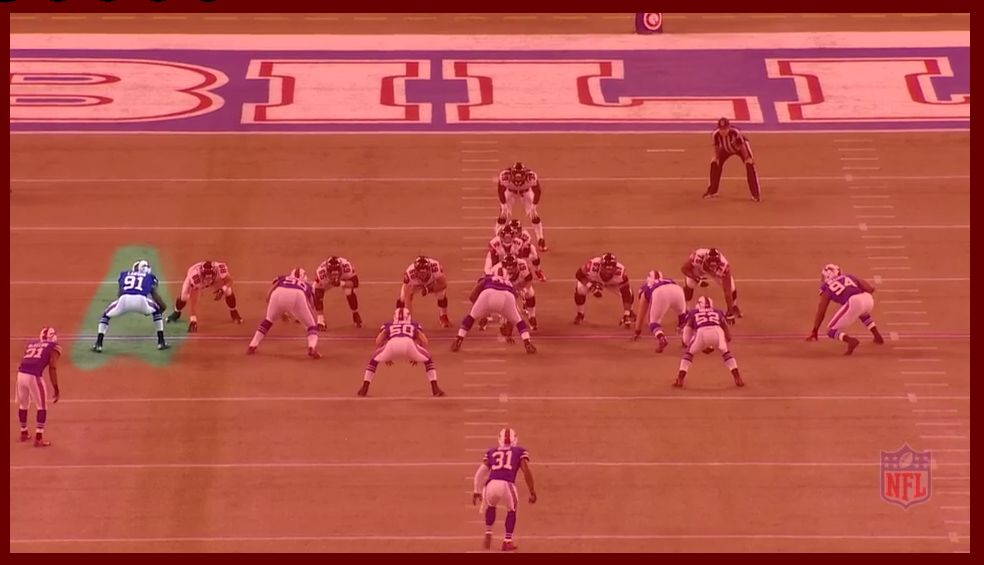 At the other outside linebacker spot, the Bills started yet another former first rounder in Manny Lawson. Lawson has been a journeyman and never lived up to his billing as a top-flight pass rusher out of NC State. Lawson is similar in body type (long) and "long speed" (fast) to Barkevious Mingo. But while Mingo's story has yet to be written, Lawson has more or less proven he isn't a great edge rusher. Lawson dropped into coverage much more than Williams, though the two played similar roles against the run. Despite Mingo's relatively quiet season, I'd still take Mingo over Lawson in a heartbeat.
"Will" ILB
Controlling the inside of the Bills' defense were linebackers Kiko Alonso and Arthur Moats. Moats, the bigger of the two backers (listed at 250lbs) usually played behind the 1-gapping side of the line.
"Mike" ILB
Alonso, the more instinctive inside backer, usually played behind the 2-gapping defensive linemen. This setup freed Alonso to do what he does best: flow to the action and make an inordinate amount of tackles. More on this position in the future, but the point I'm making now is that D'Qwell Jackson and Alonso are similar players. Alonso is more nimble and quicker at this point in time, but both Jackson and Alonso both have the "always around the ball" skill that coaches covet, and both have proven they can find the ball and make lots of tackles.
Secondary
On the back end of the defense, the Bills had two corners similar to the Browns' corners. One quicker, smaller CB (Buster Skrine, Leodis McKelvin), and one slightly bigger CB who is better overall (Joe Haden, Stephon Gilmore). Bills fans might debate who is better amongst their CBs, but Browns fans will not. Haden is the best on either team.

The Bills featured one free-agent-to-be, pro bowl safety who is better in the box than in the deep part of the field, just like the Browns (Jarius Byrd, TJ Ward). They also featured one average at best safety who was smaller and less physical (Jim Leonard, Tashaun Gipson). Pettrone lined Byrd up all over, and I'd expect to see the same thing from TJ Ward if he's back.
Subs
Key reserves for Buffalo were former first round pick and undersized edge rusher Jerry Hughes, Nigel Bradham who filled in admirably for Moats, and another 2-gapping "DE" in Corbin Bryant (6'4", 300lbs). The Browns probably have the edge in front 7 depth with Billy Winn, John Hughes, and Armonty Bryant all having promising starts to their careers. The Bills played a lot of DBs in sub packages, who were all surprisingly disciplined but not supremely talented.

The Bills admittedly got more production from their edge rushers than the Browns. Hughes was the most notable backup in the Bills' front 7, and he registered a career high 10 sacks under Pettine as a situational/backup player.
Mike Pettine has promised to fit our defensive scheme to his players and not the other way around. And his defense in Buffalo fit his players well. Based on the similarities in personnel between the two teams, I expect our defense to look very similar to what we saw from Buffalo in 2013. Come back to DBN over the weekend for an introduction to the Bills' base defense.